You are in:
New definitives stamps issues
Latvia - New definitives stamps issues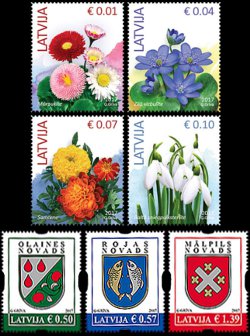 New stamps issued on January, 13
03/02/2017 - As every year, this one was no exception for Latvijas Pasts (Latvia Post office) to release the reprint of stamps from existing series and to add new issues.


On the 13th of January a new set of 7 stamps was issued from these two series: Flowers (Standard Edition) and Coats of Arms of Latvian Towns and Municipalities.

There are four reprints from the Flowers set: €0.01 (English daisy), €0.04 (liverleaf), €0.07 (zinnias) and €0.10 (common snowdrop). Plus, three new values from the Coats of Arms that represent the coats of arms of Olaine, Roja and M?lpils Municipalities respectively: €0.50, €0.57 and €1.39 values.

All technical features of these stamps are the same of previous issues.